The Biotest basin
Last changed: 25 October 2020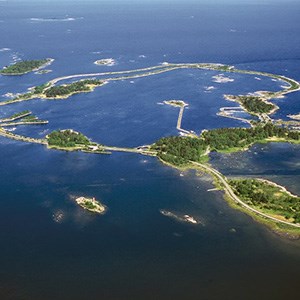 The Biotest basin is an approximately 90 hectare embedded water reservoir that is the recipient of heated cooling water from Forsmark's nuclear power plant. This creates a unique environment that is about 8 degrees warmer than the surrounding sea but otherwise natural. The Biotest basin can thus be likened to a time machine for future oceans and is an exciting environment for research on what will happen when the water temperature rises in the future.
The Biotest basin was completed in 1977 and the cooling water started to flow through the basin in the spring of 1980 when operation in reactor 1 was started.
Two years later, in 1982, production started at reactor 2 and the cooling water discharge to the plant was maximum, at 90,000 liters per second. Today (2020), cooling water emissions reach just over 100,000 liters per second and the water temperature in the Biotest basin is about 8 ° C warmer than the surrounding coastal areas.
Until the spring of 2004, the point of release of Lake Biotests was equipped with a grid, with the aim of preventing fish from moving between the Biotest basin and surrounding coastal areas. In 2004, the grid was removed and since then fish can move freely between the areas.
To investigate the effects on the marine environment of discharge and discharge of cooling water to the Biotest basin and the Bothnian Sea, controls are carried out in a biological recipient control program. The surveys are carried out by the Department of Aquatic Resources (SLU Aqua) and consist of studies of fish, soft and hard fauna and seabirds.
The program includes studies in the Biotest basin, the Forsmark archipelago and in a reference area on northwest Åland, Finbofjärden. The studies carried out in the Biotest basin include test fishing with nets and shoals, bottom fauna sampling and inventories of coastal birds. The results of the surveys are compiled in annual reports and in-depth reports approximately every five years.
---
Contact
Anders Adill, Environmental Assessment Analyst
Department of Aquatic Resources, Institute of Coastal Research, SLU
anders.adill@slu.se, +46 10 478 41 10
---
Links