The Fisheries Research Station in Älvkarleby
Last changed: 04 September 2023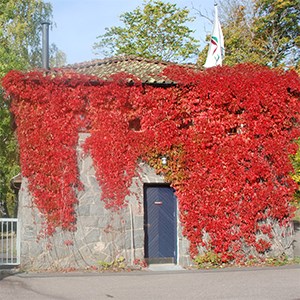 The Fisheries Research Station of SLU Aqua produces approximately 140 000 salmon and trout each year to be released in the river Dalälven. SLU's research and breeding of farmed fish is required for an environmentally friendly and animal ethical aquaculture. We welcome the departments at SLU and other researchers to do your research here. We have aquariums, brooks and rivers suitable for experiments.
To preserve nature's fish varieties
Breeding of fish to be released into lakes and rivers follows special principles. Here it is of the utmost importance that the fish retains its natural properties from one generation to the next. The parents of the salmon that are released into the Dalälven river therefore come from the Dalälven river and the selection of the fish taken for breeding is made to get as much genetic variation as possible.
The fisheries research station is also developing new knowledge and methods to make the fish's growth as natural as possible, even though it is kept in captivity for its first two years. It is important to know what factors affect the fish and how to avoid it learning a behavior that makes it vulnerable when released.
Expert or just curious? Ask us!
The fisheries research station in Älvkarleby are working to increase knowledge about fish and fish farming among both industry professionals and the general public. We hold courses in, among other things, labeling technology and animal ethics with a focus on fish.
---
Contact
Ann-Britt Florin, Head of Division
Department of Aquatic Resources, Institute of Coastal Research, SLU
ann-britt.florin@slu.se, +46 10 478 41 22
---
Links