The Crayfish eDNA workshop in Stockholm 2023
Last changed: 30 May 2023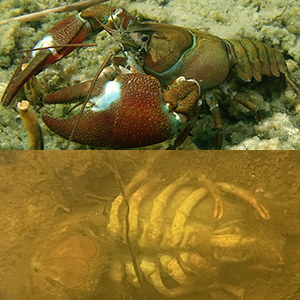 The eDNA workshop Crayfish & eDNA took place at Drottningholm in Stockholm. The main topic was how to improve detection of crayfish and crayfish plague from water samples by using eDNA methodology. The workshop was a joint effort to improve cooperation and knowledge exchange between universities, organisations, private companies and authorities.
Universities from the Nordic countries, Estonia, Croatia, the Czech Republic, Germany, the UK, Ireland, Italy, France and Switzerland were invited as well as European authorities, organizations and private companies.
The workshop was arranged by the Swedish University of Agricultural Sciences together with the National Veterinary Institute in Sweden. The Nordic Council of Ministers is funding the workshop.
In the expandable menus below you will find the program for the workshop.
Tuesday May 23 – Seminar day (dry day)
Presentations were held in the seminar hall. We shared experiences on how to execute an eDNA study on crayfish and crayfish plague, lessons learned and steps to move forward.
Wednesday May 24 – Experiment day (wet day)
eDNA sampling outdoors (with noble and signal crayfish) from prepared tanks, ponds and the Lake Mälaren. In this event participants brought their own sampling equipment and filtered samples were brought back home for extraction and PCR.
Thursday May 25 – Excursion day
Field trip to a noble crayfish farm outside Stockholm, close to Uppsala. Mr. Bo Andersson, the owner of the farm, will showed us around.
Timetable – Tuesday May 23
8.30–09.00
Coffee, sandwich & mingle
9.00–09.10
Welcome & what's the day about (Patrik Bohman/Lennart Edsman, SLU)
9.10–9.20
The new CEN standardization for eDNA sampling (Patrik Bohman, SLU)
Section 1
General detection of crayfish & crayfish plague
9.20–10.05
eDNA monitoring of freshwater crayfish and crayfish plague (David Strand, Norwegian Veterinary Institute, main speaker)
10.05–10.25
The distribution of NICS and crayfish plague in Estonia and the reliability of eDNA detection (Katrin Kaldre, Lilian Pukk, Michael Aluma - Estonian University of Life Sciences)
10.25–10.45
Detecting crayfish using eDNA – Finnish experiences (Timo Ruokonen, LUKE)
10.45–11.00
Coffee break
Section 1 (continues)
General detection of crayfish & crayfish plague
11.00–11.45
eDNA on crayfish & updates about eDNA projects in Poitiers (France), Single-target and metabarcodingapproaches (Frederic Grandjean, Thomas Baudry - Universite de Poitiers, main speakers)
11.45–12.05
Attempts for eDNA detection of crayfish in CZ (Adam Petrusek, Charles University in Prague)
12.05–12.30
Experiences from eDNA projects in Switzerland (Armin Zenker, Alex King - University of Applied Sciences and Arts Northwestern Switzerland)
12.30–12.50
Croatian experiences of detecting crayfish using eDNA (Ivana Maguire, Lucija Markulin - University of Zagreb & Labena-Slovenia)
12:50–13:15
Mapping of crayfish and crayfish plague in Denmark 2020-2021 using eDNA (Magnus W. Jacobsen, Brian K. Hansen, Stig Pedersen & Søren Berg, DTU Aqua - Technical University of Denmark)
presentation on web link
13.15–14.00
LUNCH
Section 2
Crayfish plague genomics
14.00–14.45
Crayfish plague genomic detection methods & co-evolution aspects (Kathrin Theissinger, Senckenberg Research Institute, main speaker)
14.45–15.10
eDNA surveillance of crayfish plague, potential vectors, and White-clawed crayfish in Ireland, a National Monitoring Program (Bogna Griffin, Marine Environment and Food Safety)
15.10–15.35
Cuticular swabs and eDNA monitoring of crayfish plague in Northern Italy (Andrea Basso, Valentina Paolini & Tobia Pretto, Centro Specialistico Ittico - Istituto Zooprofilattico Sperimentale delle Venezie, Italy)
presentation on web link

15.35–16.00
Optimization of detection and genotyping of A. astaci & spatiotemporal spread of A. astaci using eDNA (Simone Pisano, University of Bern, Switzerland)
16.00–16.10
Coffee
Section 3
Discussions
16.10–17.00
Discussions
17.00–17.15
Some final words about Wednesday May 24 (eDNA experiment)
18.30–late
Main dinner in the dining hall
Timetable – Wednesday May 24
8.00–8.30
Coffee & sandwich
8.30–8.45
Practical information (Patrik Bohman/Lennart Edsman)
9.00–13
eDNA sampling
13.15–14.00
LUNCH
14–18
eDNA sampling (continues)
20–
Dinner at restaurant (Brommaplan) for participants
Timetable – Thursday May 25
8.00–8.30
Coffee & sandwich
8.30–8.45
Practical information (Patrik Bohman/Lennart Edsman)
9.00–10.30
Travel with mini buses to Mr Bo Andersson/Hebykräftan (Heby crayfish farm)
10.30–12.30
Visiting Heby crayfish farm
13.00–14.00
LUNCH
14.00–15.30
Travel with mini buses to Brommaplan/Drottningholm
Presentation video 27 March 2023
David Strand (00:00:00), Michael Aluma (00:45:32), Timo Ruokonen (01:13:10), Frederic Grandjean & Thomas Baudry (01:34:20/01:53:42), Armin Zenker & Alex King (02:18:10), Lucija Markulin (02:45:30), Magnus Jacobsen (03:04:48), Adam Petrusek (03:29:10), Kathrin Theissinger (03:53:45), Valentina Paolini (04:37:07), Bogna Griffin (05:08:18), Simone Pisano (05:34:10)
Crayfish and eDNA WS - 1st webmeeting 27 March 2023
Link to the recorded Zoom meeting at SLU Play
Experiment information
Information about the experiment (DPF-file)
Facts:
Meeting organizers
Financed by: Nordic Council of Ministers


Main organizer: Swedish University of Agricultural Sciences (SLU)

Co-organizer: National Veterinary Institute (SVA)

---
Contact
Patrik Bohman, Environmental Monitoring and Assessment Analyst
Department of Aquatic Resources, Institute of Freshwater Research, SLU
patrik.bohman@slu.se, +46 10 478 42 17