Phenology and Berry Crop Forecast
Last changed: 04 May 2021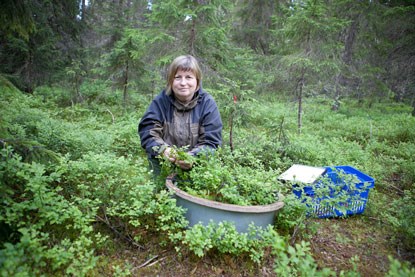 Field observations of selected plants and berry crop yield forecasts are included as part of the environmental assessment of changes in vegetation, forest condition, soil, water, and climate.
Phenology
Phenology is all about seasonal patterns in nature. For example: When do leaves sprout in spring? When do the leaves change color in the fall? Phenology results from the weather-dependent change of seasons, which in the future may be pushed forward by climate change.
As part of a larger network, the staff at Svartberget try to document and report nature's seasonal trend throughout the growing season.
The staff conducts weekly observations and record measurements from May to October on Birch, Norway spruce, and Scots pine, as well as on blueberries and lingonberries. On the trees, the staff follow bud and shoot development, autumn colors, and defoliation, and on berry shrubs flowers, unripe fruits, and ripe berries are counted. Data are available from 2006 onward.
The Swedish National Phenology Network (SWE-NPN) is a collaboration between universities, governmental agencies, and volunteers. Its primary purpose is to collect, store, and provide long-term environmental assessment data about nature's calendar. The Swedish University of Agricultural Sciences is the acting host.
Svartberget send its observations to SWE-NPN and it is then, in turn, presented on their website. Nature's Calendar
Berry Crop Forecast
Together with the Swedish National Forest Inventory, SLU make annual forecasts of the amount of blueberries and lingonberries in the Swedish forests. The berry crop forecast is based on regular observations of permanent sample plots on several experimental sites within SLU's experimental forests as well as on observations of the amount of flowers, unripe fruits, and ripe berries from the National Forest Inventory nationwide experimental sites.
The sample plots in SLU´s experimental forests are checked three times per season: first the flowers are counted, then the unripe berries, and finally the ripe berries. The blueberry forecasts refer only to forests where blueberry plants present.
---
Contact
Ola Langvall, Station Manager
Unit for Field-based Forest Research, SLU
ola.langvall@slu.se, +46 472 26 31 80