Reference Measurements of Climate and Ozone
Last changed: 04 May 2021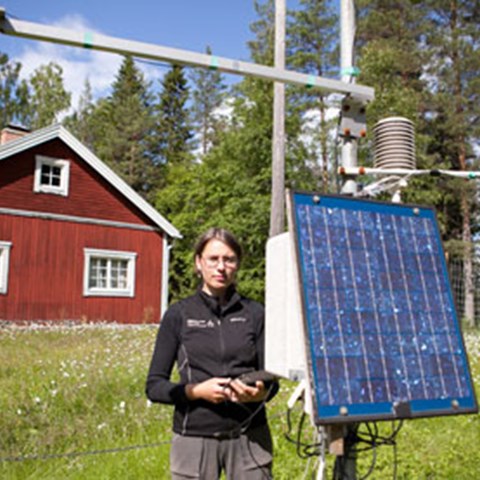 The staff carries out long-term measurements of climate, soil conditions, ozone, precipitation chemistry, and runoff chemistry in order to provide projects performed in the experimental plots with background data about the condition of the air, land, and water.
Climate Measurements
Reference measurements are made mainly at three sites at Svartberget and at one site at Kulbäcksliden. Climate variables are measured every minute, and ten-minute mean values are stored and used as a baseline for hourly and daily climate data. Data are available from 1980 onward at Svartberget and from 1990 onward at Kulbäcksliden.
The Vindeln region has a cold, temperate, humid climate, characterized by long winters with permanent snow cover from mid-November to late April. Despite its northern location, the summer period is relatively warm with long days and short nights. The growing season starts in early May and ends in late September/early October. Annual precipitation is 614 mm, of which about half falls during the growing season. The average annual temperature is + 1.8 °C, but the variation during the year is large, with an average temperature of - 9.5 °C in January and +14.7 °C in July.
Annual report
Compilations of the most used climate variables are published in an annual report: Referensmätning av klimat vid skogliga försöksparkerna.
Ozone
At Svartberget, daily measurements of ozone in the stratosphere have been taken since 1991. The measurements have been taken both manually with a Dobson spectrophotometer and automatically with a Brewer spectrophotometer. Data are presented on SMHI's website.
The Swedish Environmental Research Institute (IVL) has been measuring the ozone in the troposphere daily since 1985 in order to inform the public about occurrences of high concentrations. There are ozone stations at nine locations in Sweden, including one in Vindeln. A diagram of ozone levels can be found on IVL's website.
What can we offer you?
Access to climate data when you establish a field experiment at any of Svartberget´s experimental sites.
Precipitation is one of the most important parameters. Precipitation is gathered in a water-proof vessel, whereafter the amount of liquid is measured.
---
Contact
---
Contact