Kulbäcksliden peatland research infrastructure
Last changed: 11 March 2022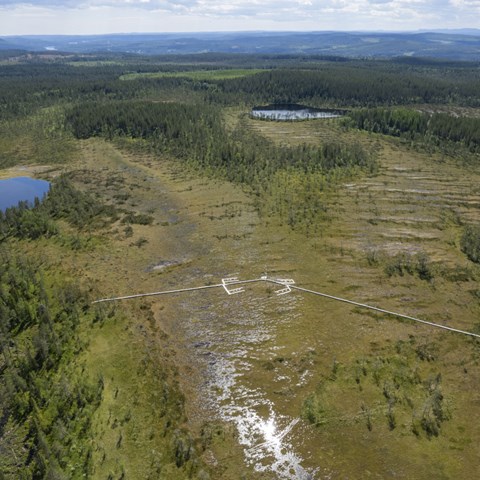 Kulbäcksliden is a unique research infrastructure for studying mire ecology, hydrology, biogeochemistry and atmosphere-ecosystem exchanges. Its core site is Degerö Stormyr which is one of the oldest (established in 2001) continually operating eddy covariance sites on peatlands anywhere in the world and an ICOS ecosystem station since 2019. Recently (in 2020), the infrastructure has been expanded to include replicated instrumentation at three more mire sites and one drained peatland forest located less than 3 km apart, allowing for detailed study and characterisation of the wider peatland complex.
Geographic location
Kulbäcksliden is located on a ridge between two rivers, the Umeälven and Vindelälven near the municipality of Vindeln in Northern Sweden. The infrastructure includes 4 mires (Degerö Stormyr, Stortjärn, Hålmyran, Hälsingfors-mire) and 1 drained peatland forest (Hälsingfors-forest). The sites are located slightly above the highest Holocene sea level and due to the process of isostatic uplift they are now between 260 and 300 meters above the present day sea level and 60 km from the coast. Human impacts on the mire are limited to berry picking and possibly minor disturbance from surrounding forestry operations.
Measurements
All five measurement sites within the peatland complex are connected to the main power grid (Three phase 415 Volt capability) and have data connectivity via a combination of fiber and 4G modems. The primary instrumentation for land-atmosphere exchange measurements at the 5 sites consists of an eddy covariance system, measuring the net exchanges of CO2, H2O and CH4, along with continuous measurements of ancillary key meteorological (air temperature and humidity, radiation balance components, wind speed) and soil environmental (soil temperature, water table depth, soil moisture) variables. In addition, Degerö Stormyr and Hälsingfors-forest also include an eddy covariance set up for elemental gaseous mercury measurements. Apart from the eddy covariance system, greenhouse gases are also measured with automatic chamber systems at Degerö Stormyr (since 2014) and Hålmyran (since 2020), and with manual chambers both at Degerö Stormyr and Hälsingfors-forest. Other operational installations at the research infrastructure include phenology cameras, continuous vegetation inventory, plot-scale experiments of nitrogen fertilisation, warming, and snow exclusion, as well as water discharge measurements to only name a few. Starting 2023, the two mire sites Storjärn and Hålmyran will receive ecosystem-scale Nitrogen fertilization via helicopter.

Infrastructure's pages
Data accessibility
Data not available on public repositories can be provided upon request.
---
Contact

Contact
Matthias Peichl, Professor
Department of Forest Ecology & Management, SLU
matthias.peichl@slu.se