The department's report series
Last changed: 08 March 2023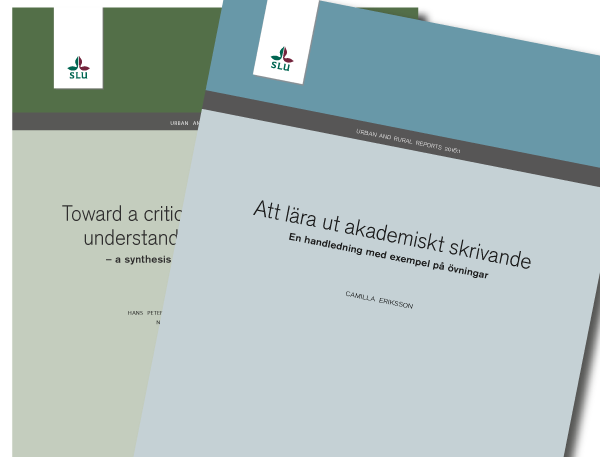 The department's reports series is called Urban and Rural reports.
---
Betwen the years 2006-2014, the department produced the series Rapporter - institutionen för stad och land / Reports - Department of Urban and Rural Development, ISSN: 1654-0565
---
Urban and Rural reports
From January 1st 2015, the department's report series is called Urban and Rural reports.
Within the series are published reports from the divisions at the department: Agrarian History, Environmental Communication, Landscape Architecture, Rural Development and the Swedish Centre for Nature Interpretation (SCNI).
Aim and scope of the report series
The aim of the report series Urban and Rural reports, is to present research, teaching and other interesting activities in progress at the department in a popular science way. The primary audience of the report series is practitioners and members of civil society working within universities, government agencies, municipalities, schools and (non-governmental) organizations that have an interest in matters and issues of relevance to the department.
The report series can be used for popularisation of research results, for teaching materials, for publishing overviews and summaries of ongoing work etc. It is important to remember that the series is supposed to contribute to and reflect the image of and the work at the department.
The new report series does no longer have it's own series number (ISSN), but each and every report published in the series is given a unique ISBN within the same consequtive number sequence used for the previous series.
All reports published in the series Urban and Rural reports are also connected in the libraries' databases - (Libris and SLUpub) with each other and with the previous series, above.
Editorial committee
The new report series has an editorial committee with subject representatives:
Rural development - vacant
Andrew Butler, Researcher, Landscape architecture
Environmental Communication - vacant
The editorial committee has produced Guidelines and a Document template to be used by authors of reports in the series.
Legally responsible publisher
Stina Powell, Head of department
---
Contact
---
Urban and Rural reports 2015:1