Profession and practice
Last changed: 06 April 2021
In profession and practice, methods and theories are developed in relation to the landscape architect's role, professional practice, landscape architectural processes and the landscape's change over time.
With a focus on factors such as form, scale or materiality, aesthetic issues and the physical landscape's significance for meaning and identity in the landscape are processed.
Profession and Practice works with landscapes regardless of scale, character or spatial position. Exploration and communication through sketch and model is an important focus, as is the use of various architectural tools and representational methods when communicating about the landscape.
---
Contact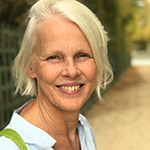 Carola Wingren, Professor, Division of Landscape Architecture, SLU, +4618672675
Read more about Carola Wingren on her CV page
Send an e-mail to: carola.wingren@slu.se

Page editor: anni.hoffren@slu.se