Database for electrofishing in streams - SERS
Last changed: 18 December 2020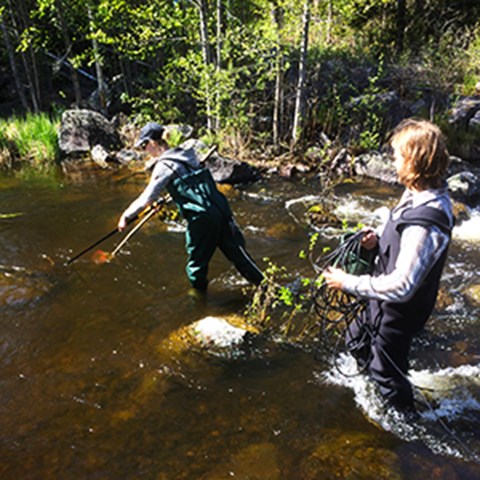 The Department of Aquatic Resources are responsible for the results from electrofishing in running waters carried out in Sweden. The national database is called the Swedish Electrofishing Register (SERS). The majority of these electrofishing occasions have been carried out within the county boards environmental monitoring and liming follow-up programmes, but also other authorities and organisations have contributed. The database is in Swedish.
The database started in 1989 and today consists of results from more than 70 000 electrofishing occasions distributed on more than 20 000 sites.
Data hosting
Since 1996, the former Swedish Board of Fisheries was hosting electrofishing data for the Environmental Protection Agency. After the agency changes in 2011, the SLU's Department of Aquatic Resources became data host for fish data, on behalf of the Swedish Agency for Marine and Water Management, which also finance part of the data hosting.
The hosting of fish data means that all the results collected in electrofishing activities within the national and regional environmental monitoring programmes are published and can be downloaded from our website. When publishing data from the database, one should indicate that data were developed within the framework of Swedish environmental monitoring.
Cite Database for electrofishing in streams itself as:
Sers, B. (Editor). 2013. Swedish Electrofishing RegiSter – SERS. Swedish University of Agricultural Sciences (SLU), Department of Aquatic Resources. http://www.slu.se/elfiskeregistret. [yyyy-mm-dd]
Database
Instructions for searching database (only swedish version)
Hämta och sök data från Elfiskeregistret
Elfiskeregistrets omfattning och datum för senaste uppdatering
Nationell kalkeffektuppföljning, IKEU
Nationell miljöövervakning, NMÖ
---
Contact
Jon Duberg, environmental assessment analyst
Department of Aquatic Resources, Institute of Freshwater Research, SLU
SERS@slu.se, +46(0)10-478 42 82
---

Page editor: teresa.soler@slu.se