Beaver Impact Maps
Last changed: 22 September 2023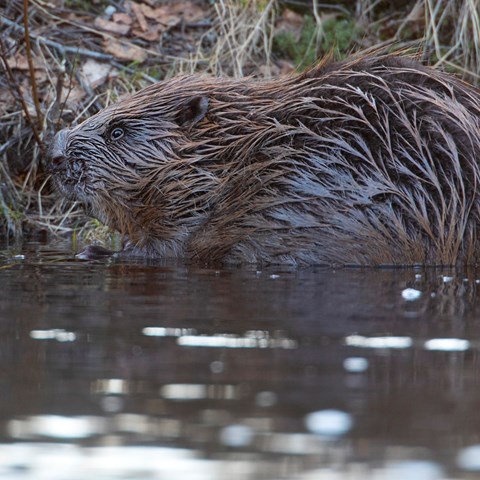 Mapping of methylmercury concentrations in streams at catchment scale – a support to decide on potential beaver dam removal to reduce the burden of methylmercury in catchments.
Beaver dams have a profound environmental impact including potential formation of toxic methylmercury. The formation of methylmercury is a microbial process that is favored by the availability of labile organic material and low oxygen concentrations. These conditions arise especially in new (pioneer) beaver ponds with recently flooded soils and where oxygen concentrations are low due to decreased water velocity and decomposition of the organic material.
In WAMBAF, we studied such local effects of beaver ponds on methylmercury. However, beaver systems consist often of cascades of beaver ponds along streams and these cascades can stretch over vast areas. While our knowledge on the local effects of beaver dams on methylmercury have gradually increased, we hardly know anything about the catchment (landscape) effect of the dams.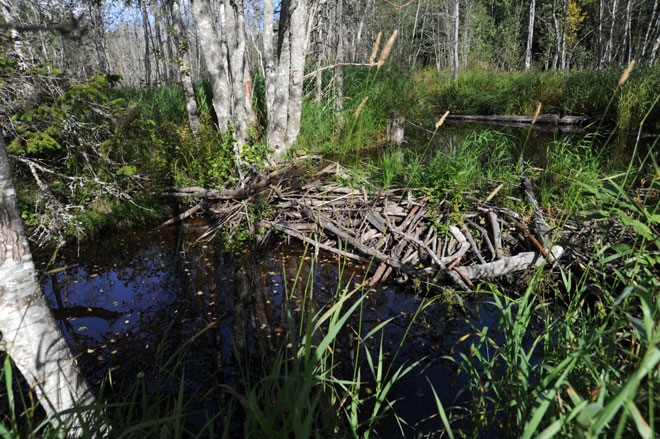 Photo: Frauke Ecke
Biota in many waterbodies in Fennoscandia suffer from high concentrations of methylmercury that even exceed threshold concentrations set by the EU. Since beaver dams can further amplify methylmercury concentrations in water and biota, beaver dam removal might be used as a management tool to lower the burden of methylmercury in especially beaver impacted streams. However, so far, we lack a catchment-based tool to decide which beaver dams that could be removed to lower the methylmercury burden.
In WAMBAF Tool Box, we therefore modelled and mapped concentrations of methylmercury in streams of selected catchments in Sweden and Lithuania. The approach and maps can be used to identify beaver dams that can potentially be removed to lower the burden of methylmercury. While such a management tool might we efficient in short term, it can't be applied isolated. Beavers have an astonishing ability to rebuild smaller dams just within one night. Hence, if a decision of dam removal is made, also the beaver family responsible for the beaver dam needs to be managed.
Video illustrating the spatial variation of methylmercury concentrations in beaver impacted streams in the Ljungan catchment in Sweden. Black circles represent existing beaver dams and red dots illustrate potential future beaver ponds. The concentrations of methylmercury range from 0 ng/l (dark green) to 5 ng/l (dark red). The illustration demonstrates the large spatial variation of methylmercury concentrations along the streams including the decrease in concentrations with increased distance from dams. However, cascades of dams prevent the reduction of concentrations towards background concentrations.
Beaver impact maps for selected catchments – download for use in GIS program
You reach the Beaver Impact Maps from WAMBAF's FTP (file transfer protocol) server. Use a FTP client, for example Filezilla, to download the maps. The FTP URL is: "ftps://ftpsks.skogsstyrelsen.se". Log in with username "wambaf" and password ":V:Jji1?E5".
Available maps: Norrströms (Sweden), Ljungan (Sweden), Råneälven (Sweden), Lithuania
Read me (details on the modelling approach)
Literature
Ecke, Frauke, Oded Levanoni, Joachim Audet, Peter Carlson, Karin Eklöf, Göran Hartman, Brendan McKie, José Ledesma, Joel Segersten, Amélie Truchy, and Martyn Futter. 2017. 'Meta-analysis of environmental effects of beaver in relation to artificial dams', Environmental Research Letters, 12: 113002.
Sjöberg, Göran, and Olgirda Belova (eds.) 2020. Beaver as a renewable resource: A beaver dam handbook for the Baltic Sea Region (Swedish Forest Agency).

---
Contact