Emilia did her thesis work in South Africa
Last changed: 09 January 2023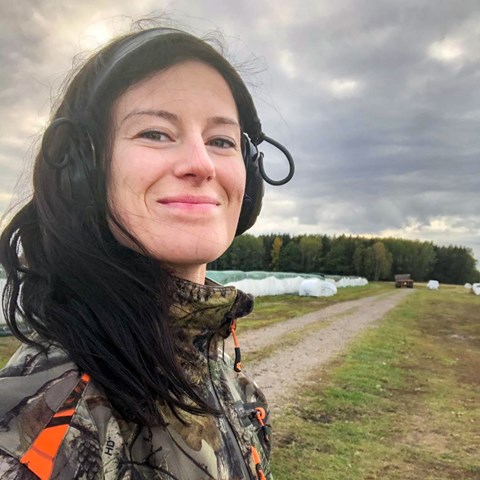 The conservation of wildlife and their habitats is something Emilia Malmström is really passionate about. In her thesis work, she went to South Africa to study the effects of white rhinos on the grassland structure.
Who am I?
My name is Emilia and I'm 25 years old and have always been passionate for conservation of wildlife and to contribute to protecting it from human disturbance. I have had a special focus for many years on the poaching crisis that is threatening elephants and rhinos in Africa and was lucky to find this project in South Africa where I got to do my master's degree project.
What is your Master's thesis about?
I investigated the impact of white rhinos on the savanna grassland structure and how poaching on these animals indirectly could interrupt this process by reducing the white rhino population.
What did you find out?
I found that grass biomass was lower and the proportion of the nutritious lawn grass was higher in areas that were used more by rhinos. These lawn grasses are very important for other herbivores and the hypothesis is that grazing by rhinos would indirectly increase the growth of lawn grasses.
Poaching did not correlate with rhino density in this study, but I still found that lawn grass proportion was higher in areas with high poaching intensity, which might indicate that high poaching represents high rhino density. This could make sense since poachers would be attracted to sites where the rhinos are more abundant. But in the future, if poaching increases, it will most likely result in lower rhino density.

How did you experience your time as a student in our Department?
I am very happy with my time as an MSc student at SLU and I would recommend others to find their way here!
What's happening next?
Now I am going to Kenya for an internship with an organisation called Save the elephants which work with human-elephant conflicts. After that I will be applying for jobs while I'm waiting for a white rhino monitor project to start in South Africa which I will be a part of to improve the estimation of white rhino density in the park.
Facts:
---
Contact
---
Links