Oskar studies the ecology of nocturnal butterflies
Last changed: 09 January 2023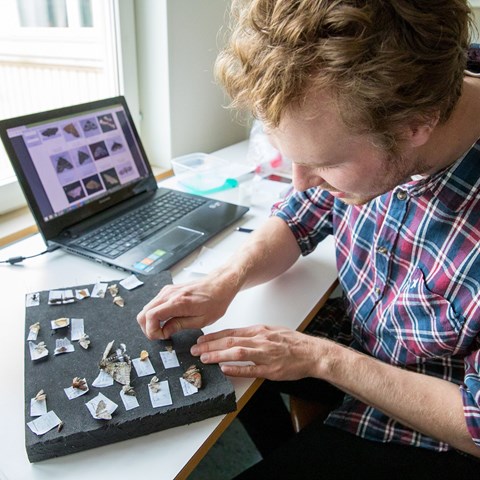 Can nocturnal butterflies use power lines in the forest as a habitat? Oskar wants to find out in his master's thesis at Wildlife, Fish and Environmental Studies.
Who am I?
My name is Oskar Lövbom, I'm 24 years old and I am born and raised in Sundsvall, Sweden. For 4 years now I have been living in Umeå while studying biology and I have recently started my master's thesis.
What is your Masters thesis about?
For my Master's thesis I am investigating if nocturnal butterflies can use power lines as a form of habitat. Earlier studies have shown that some day-living butterflies and wild bees have been found there.
Why did you choose that topic?
My favourite area within ecology is ecosystem services, the services the nature gives back to us humans, and especially pollination and pollinating insects. Therefore, I chose to study nocturnal butterflies, or moths. Since they are underrepresented in science it only gives more reason to do so.

Facts:
Do your master's thesis at the Dept. of Wildlife, Fish and Environmental Studies
---
Contact
---
Links