Do your Bachelor's thesis at our Department!
Last changed: 18 December 2020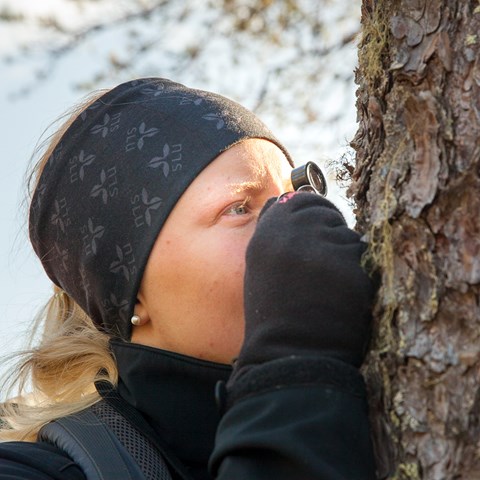 Are you interested in biodiversity, animal movements or how game and fish can be managed in a sustainable way? We have a wide range of bachelor's theses in the subjects forest science and biology!
Bachelor's thesis can be done within the Forester program given at SLU or as an independent course. The scope is 15 credits.
Bachelor's thesis as an independent course is offered all year round and there is a great deal of flexibility in how the work can be set up.
In terms of subject matter, our work and expertise are linked to one of the subject areas at the department:
restoration ecology
zooecology
aquatic ecology
molecular ecology
On this page, we will post information about vacant thesis projects. But you can always contact Therese Löfroth, our contact person for education. She will help you with your idea and put you in touch with the right person.
Welcome to contact us!
Vacant thesis projects
Analyzing and comparing landscape information in municipalities with wind power establishment in northern and southern Sweden
Analyzing and comparing landscape information in municipalities with wind power establishment in northern and southern Sweden
By 2040, Sweden should have an electricity production that fully is based on renewable energy. To access this aim, renewable electricity production needs to be extended (i.e., an increase between 80 and 120 TWh of new renewable production by the year 2045).
An expansion of wind power presupposes ecological, socio-cultural and economic positions and trade-offs. Within the Vindval-funded project "Land-use synergy, integration or conflict in sustainable land-based wind power", we quantitatively analyze the conditions for large-scale wind power development with existing the national interests (NI, riksintressen) as a point of departure to spatially define possible conflict risks and opportunities for integration and synergy gains with other NIs and other dominant land use.
Using case studies to study the environmental conditions present in municipalities with wind power establishment (i.e. Åsele, Gällivare, Falkenberg, Uppvidinge), we are looking for students who are interested in analyzing and comparing the spatial occurrence of different habitat types, land owner categories, national interests, and protected areas in two municipalities (one in northern and one in southern Sweden).
The students will use existing spatial layers (both shapefiles and rasters). To carry out the spatial analyses required, we are seeking motivated students have good knowledge in Geographical Information System (either ArcMap, QGIS or R).
Supervisors: Wiebke Neumann, Johan Svensson
Contact
Wiebke Neumann
Researcher Department of Wildlife, Fish and Environmental Studies
wiebke.neumann@slu.se, +46907868117, +46706349051
Want some inspiration?
Please click the picture below to read one of our previous student's Bachelor's thesis.
---
Contact
---
Links