People in the unit
Last changed: 19 December 2022
Researchers

Growing up in the Netherlands with a strong interest in wildlife, I dreamt about seeing the world's spectacular large mammal variation in real life. Decades later, I have been fortunate enough to make this dream come true and make a living out of it! After my PhD at University of Groningen, including 2-years of fieldwork in South Africa, I worked at research institutions in Belgium, Poland and Norway before settling in Sweden in 2011. In addition to SLU, I currently hold positions at Nelson Mandela University (South Africa) and Utrecht University (the Netherlands). Moving between these three systems keeps on challenging my views on how the world works. I thoroughly enjoy sharing this passion with my team! If I am not working, I am passionate about road biking, feeling totally at peace when climbing an Alp in the French summer heat.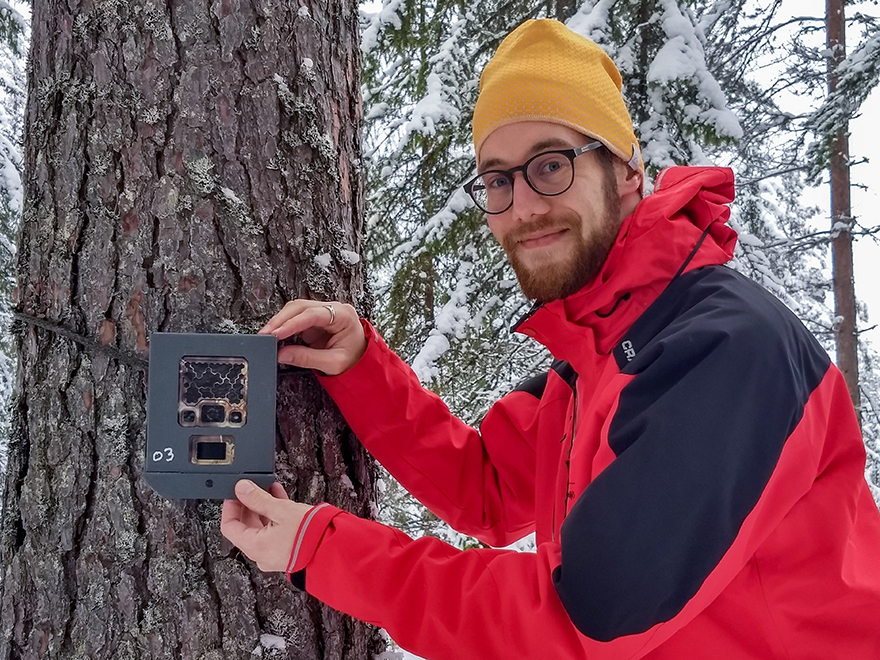 Seeing a pine marten in a Polish forest just after my 18th birthday changed my life for good. From that moment on, I knew I wanted to study mesocarnivores, and especially Mustelids! This newfound passion led me to do a lot of voluntary mammal research as a student. I wanted to make the study of mammals my profession, but it took a detour doing a PhD in disease ecology at Wageningen University, to get there. I now focus on mammal communities in Scandinavia and abroad, using citizen science and technological advances, such as camera traps and artificial intelligence, to better understand the influence of people on wildlife and vice versa. I strongly believe that we need to include humans in ecological theory and wildlife management and strive for a sustainable human-wildlife coexistence. Next to my research, I have a passion for folk music and dancing, poetry and photography.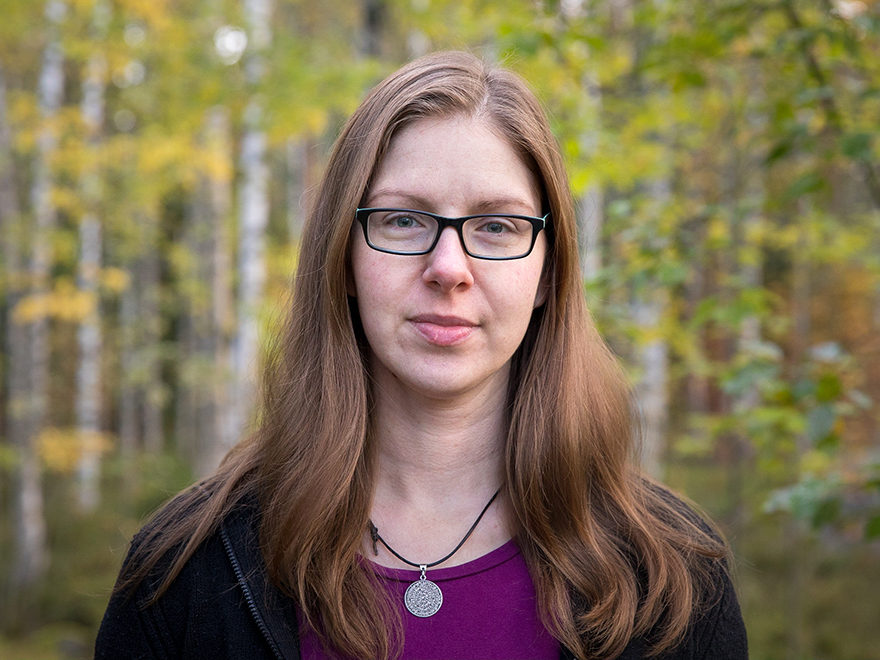 Having spent a decade managing a lemur ecology and conservation research program, I came to Sweden to determine how variations in climate impact Sweden's ungulate communities. In doing so, I created a novel opportunity to apply the knowledge I gained on sustainable development while working in Sweden to my previous experiences studying multi-species communities in the human-dominated environments of Madagascar. My collaborators and I aim to determine the long-term impact of seed disperser presence on carbon storage, biodiversity, and human livelihoods in reforested areas of Madagascar's humid forests, and link these to reforestation context and practices. In doing so, we will develop new methods of monitoring mammalian and avian seed dispersers in the tropics, and work to build capacity in the use of such methods by local organizations. This project also serves my broader research interests of finding ways to synergize sustainable development goals by promoting the ecosystem services provided by wildlife.
Postdocs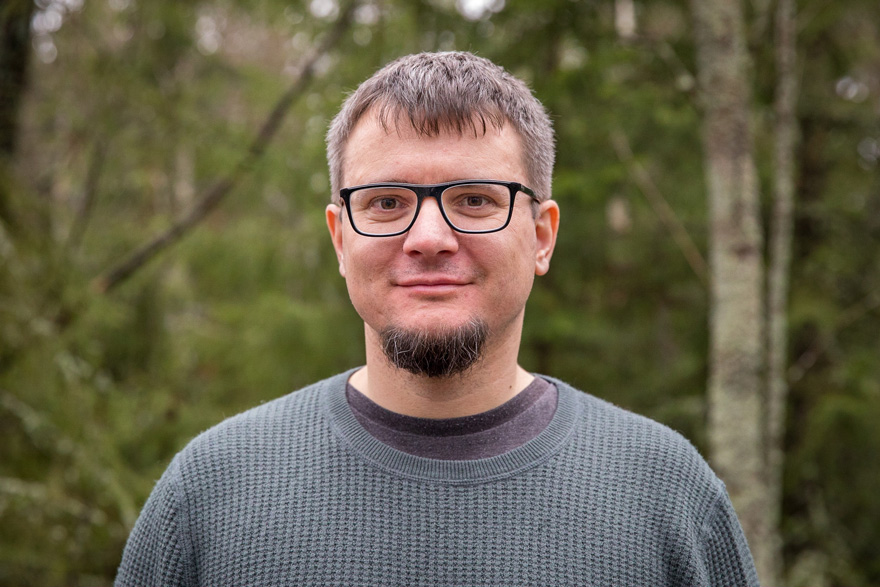 Originally trained as a forestry scientist in Germany, I spent a decade working on various conservation and community development projects in tropical South America. In 2013, I moved to Sweden to pursue a degree in Wildlife Biology. Working with brown bear genetic data for my master thesis, I quickly became fascinated by the analytic power of molecular methods. For my PhD, I used DNA metabarcoding to investigate trophic interactions, potential niche shifts and population performance in novel ungulate communities, primarily focusing on moose, red deer, roe deer and fallow deer in Sweden and beyond. Currently, for my postdoc, I built on the outcomes of my PhD, moving into nutritional ecology, and quantifying the nutritional consequences of diet shifts by these deer using a diet mixture approach.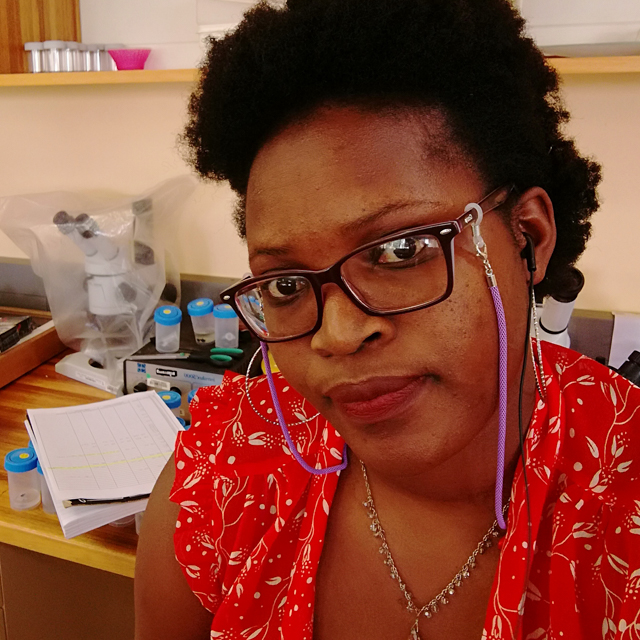 Lavhelesani Simba
Having grown up in an area that was heavily reliant on natural resources for food (locusts, termites, mushrooms, cultivated and other edible weeds) and energy (firewood), I was fascinated by what I then thought was a bottomless field of essential supplies. My curiosity and interest drove me to focus my M.Sc. and Ph.D. studies on understanding ecosystem functioning in agricultural systems and sustainable ways in which we can utilise the natural resources that these ecosystems offer. My M.Sc research was focused on understanding pollination services in mango plantations and the role of surrounding natural vegetation as a source of mango pollinators. My Ph.D. assessed dung beetle communities and the ecosystem function of dung removal in the rangelands of a semi-arid environment. I currently work as a postdoc within the Wilder Rangelands program, a collaborative research program between Nelson Mandela University and Swedish University of Agricultural Sciences, developing a road map for climate-smarter African rangelands based on the restoration of natural processes. My ultimate goal is to contribute to the conservation of our precious resources and finding ways for local communities to benefit from them.
PhD Students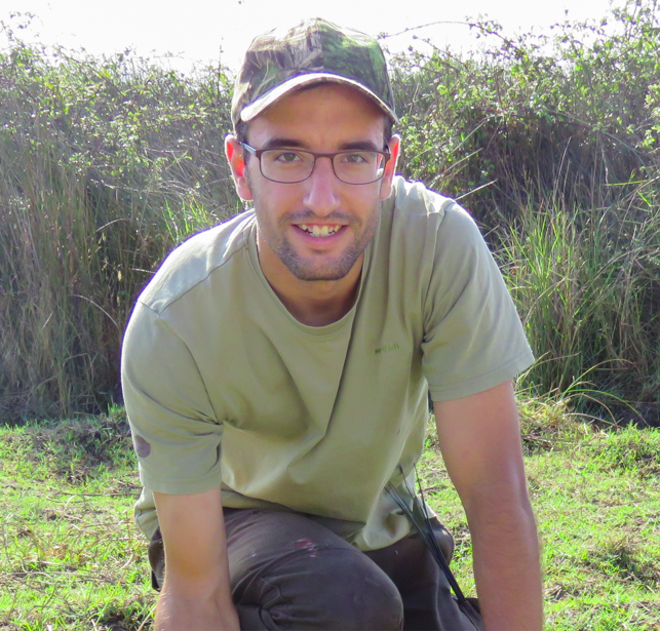 Pablo Palencia
Being born in a small city in Spain allowed me to be close to nature ever since. I started to love red partridge when I was a child, and soon other species appeared: deers, prey birds, carnivores...Mediterranean basin is always a nice hot spot to get started with wildlife! Following my passion, I studied environmental sciences, and then a masters in wildlife research and management, (I always thought that science and research are keystones for any society). Nowadays, I'm doing my PhD focus on harmonizing and develop new methods to estimate population density of mammals. If I am not working, I love cycling (especially long and hard climbs) and spot wildlife.

While doing my Master in veterinary medicine, I found out that working as a practical vet was not what I wanted to do after graduation. After some soul-searching I decided to go for a second Master in epidemiology. To combine my two educations in scientific research became my dream. My interest was with the One Health aspect of veterinary medicine, and I was determined to find a PhD project with this incorporated. In 2018 I started my PhD project, studying the role of different ungulate species on the life-cycle of ticks and the transmission of tick-borne diseases, a collaboration between SLU and Utrecht University. The ultimate goal of my study is to see whether ungulate management can be used to minimize the number of (infected) ticks in the environment, especially in areas with a lot of human recreation.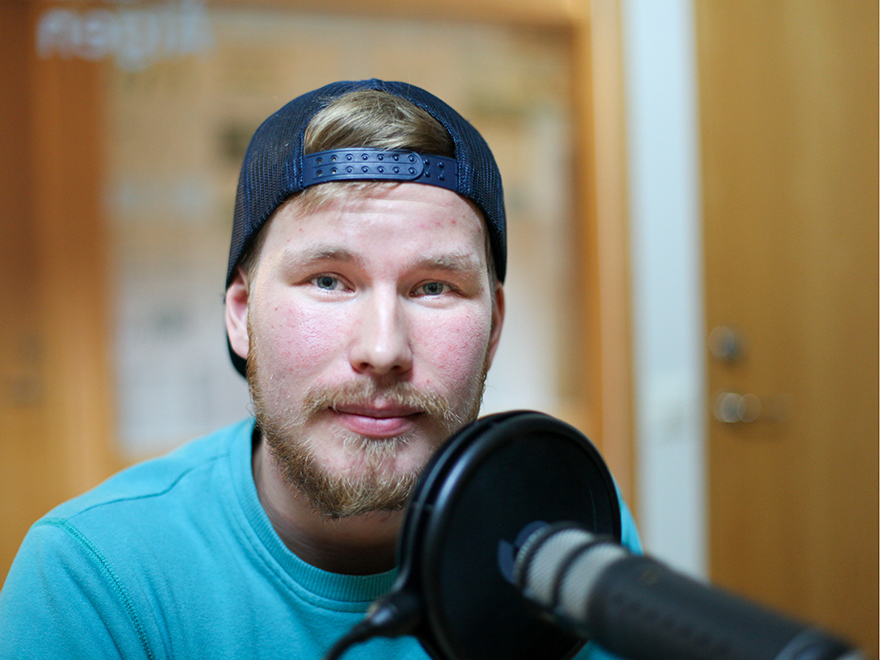 While doing my master thesis in a small game reserve in South Africa, I developed an interest in the many different ways in which large animals influence their surrounding environment. My master thesis focused on the impact of wildlife introduction on vegetation type and productivity, and for my PhD research I am able to continue in this theme and investigate the role of megaherbivores in ecosystem functioning. More specifically, I look at how white rhino affects savannah grassland structure, and how this translates to climate-vegetation feedbacks in Hluhluwe-iMfolozi Park, South Africa. In addition to my PhD work, I co-host the Wild Research Bites Podcast at our department, where we invite students, researchers and managers to talk about their studies and work.

Growing up on the countryside in Sweden I have always been interested and fascinated in wildlife and nature. Throughout my study years, I started to find more and more interest in the interaction between humans and wildlife. This continued throughout my master thesis, which focused on bark stripping by red deer in southern Sweden. It was during this time I really advanced my interest in how animals influence their environment, how this is influenced by humans and more specific how we manage our wildlife. For my PhD work, I am trying to answer the question whether we can manage ungulate behavior, in addition to numbers, and if this may be a solution to human-wildlife conflicts in Sweden. I will focus on understanding and manipulating ungulate behavior within the framework of human-wildlife conflict. I aim to develop and test new management strategies by combining important key drivers of ungulate behavior using large landscape-experiments.
Steven McGregor (Affiliated PhD student)
I am a PhD student registered at Nelson Mandela University and supervised by Prof Graham Kerley (NMU), Prof Joris Cromsigt (SLU, Utrecht University and NMU) and Assistant Prof Mariska te Beest (Utrecht University and NMU). My research forms part of an ongoing collaborative research program between SLU and NMU which aims to assess linkages between wild herbivores, grasslands and herbivore-driven processes that influence climate drivers. My primary study system is situated in the montane grasslands of South Africa in the Eastern Cape Province.
Karin Amsten (Affiliated PhD student)
Bjorn Mols (Affiliated PhD student)
Master students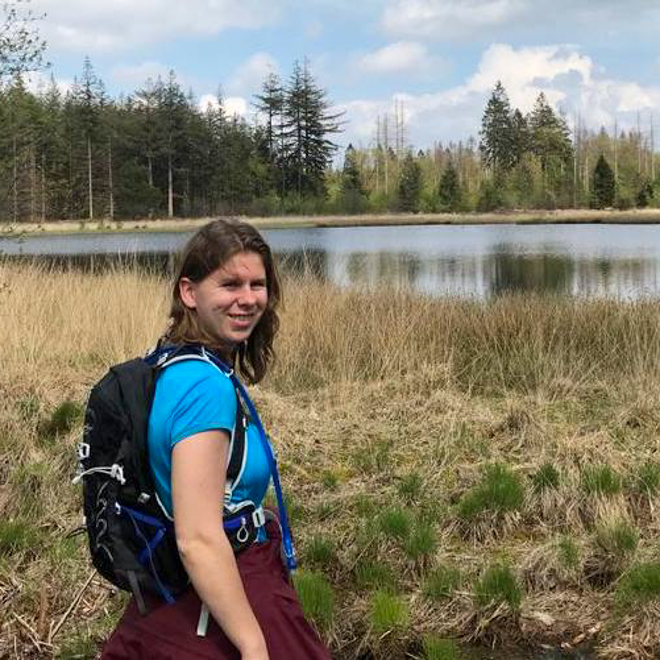 Lonneke Nijhuis
Since I was a child I loved to go hiking and mountainbiking through the Scandinavian forests and mountains. Following my childhood dream I started a bachelor in Veterinary Medicine. However, during this study I found out that I was more interested in the One Health aspect. I did my bachelor thesis about the effect of climate change on the distribution of the West Nile virus and decided that I wanted to explore the vector-borne diseases further with my master's thesis. I got an offer to do research in the contribution of different hosts to the transmission of Borrelia burgdorferi and I was very pleased to take it. I am still working on this, learning new skills every day and I am definitely taking this experience with me after graduating.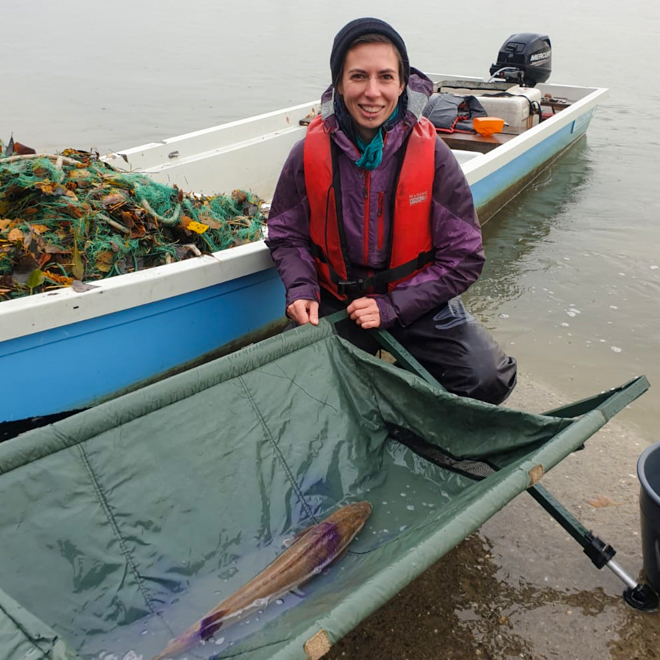 Nadine Erath
I am Master student that is originally studying in Austria, Wildlife Ecology and Wildlife Management. My dream was always to stay a bit longer in Scandinavia, work with or study about wildlife here. After a few excursions exploring the possibilites about environmental protection and eco-tourism before my studies, I am happy to be part of the Swedish Polecat Project for my master thesis. I am writing about the human influence on European polecats in southern Sweden. For this we use a newly developed method that includes camera trapping and a tube-lure-system to take pictures of the polecats. Depending how the camera trapping will go, it might be even possible to identify the animals on individual level using a photo-identification software (I³S). The goal is to quantify the relationship between human land use and presence/density of polecats. In my freetime I love to be outdoors, swimming or bouldering and hiking in the mountains.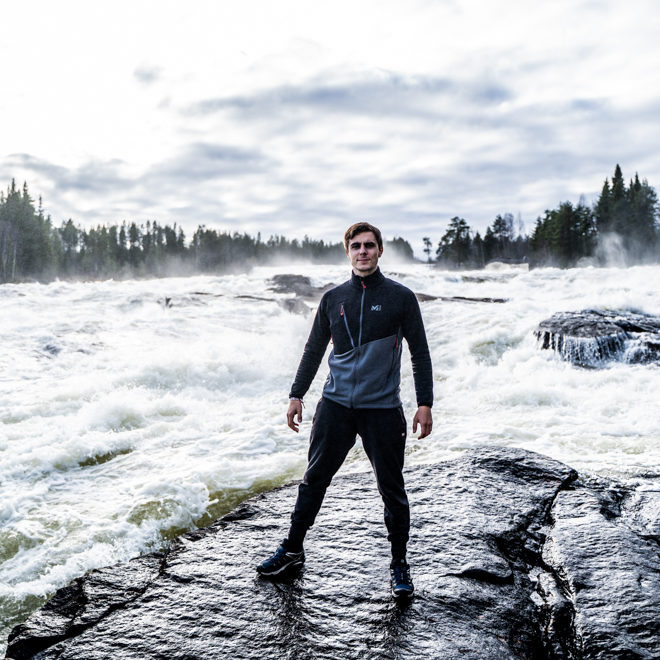 Pablo Del Rio
Who hasn't been in awe while observing how a spider weaves its web, or how starlings gather during the murmuration. As a kid, I guess most people have felt that at least once. I'm so grateful that I still have that genuine admiration towards nature and its spectacles. This logically led me to undertake volunteering experiences to understand conservation while helping as I could and enjoying nature. From then, I went on to study biology and today, I'm glad to be doing my master thesis at SLU. In fact, I am currently working on a project aiming to understand how lynx occupy the landscape in different areas of Sweden using camera traps. Apart from this, I'm always either doing sport or spending time in the forest where I love to photograph wildlife.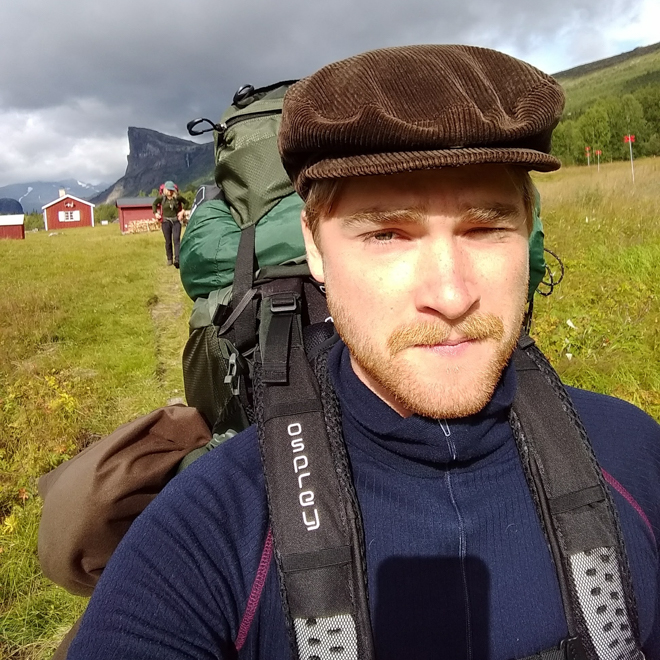 William Jaktén Langert
Born on the Swedish west coast, the sea has always been a place where I've felt at home. I have a background in sailing and building traditional ships but didn't see myself wanting a career there. Instead, I did my bachelors in forest science at SLU, Umeå. The masters programme at the department felt like the perfect way to proceed to be able to continue working close to the sea and contribute to the sustainable management of ocean resources. I'm writing my master's thesis on the implementation of technology in wildlife management and how it might impact management practices and our perception of wildlife. ​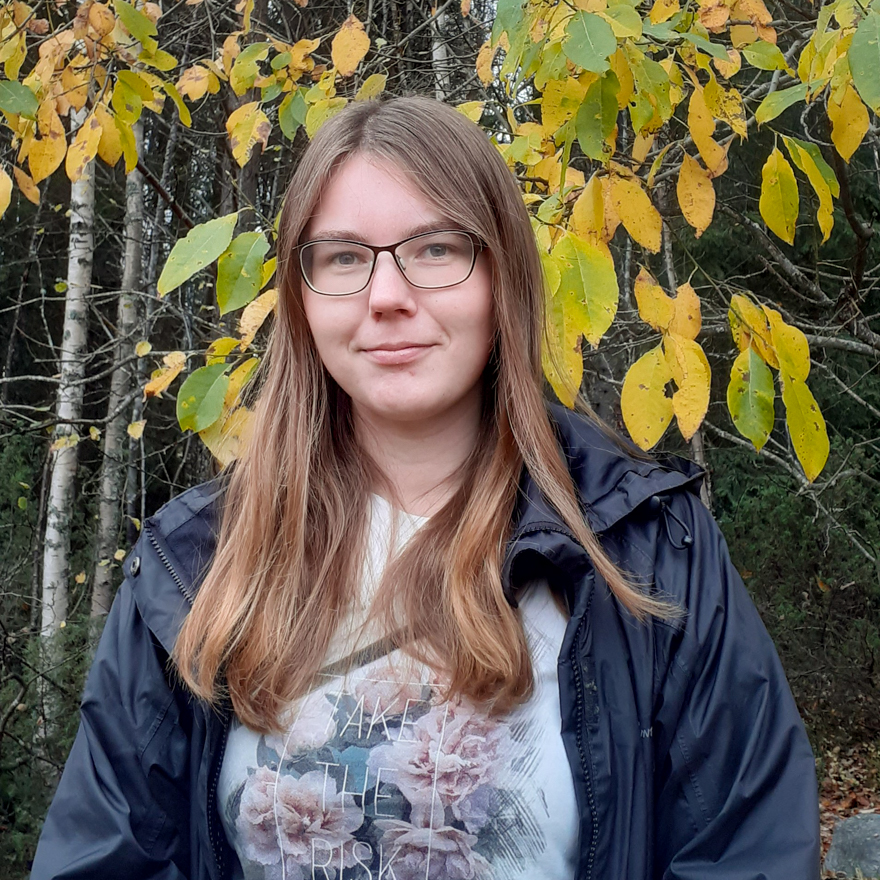 Cecilia Åström
Growing up on a farm in Sweden I spent a lot of time in nature. I have been interested in nature from then and started my bachelor in ecology in Umea University. I have always been drawn to the big herbivores in Sweden so therefore I started my master thesis at SLU. My master thesis is about moose foraging patterns in northern Norway through following them with a camera placed under their cheek in collaboration with NINA and NIBIO. I like to hike, training outdoors and pick berries and mushrooms.
Anna Swärd
Growing up on a farm in Norway I have always been surrounded by nature and animals. However, I was not always sure that it was something I wanted to work with. This changed when I came to Africa for the first time. During a study trip to Tanzania, I visited an organization working with Agroforestry and rural development around Lake Victoria. I saw how education and new land management practices could completely change the landscape and people's lives. This made me want to learn more about the mechanisms that made this transition possible, and I started my biology bachelor later the same year. I am now on my master, and this semester I am doing a project course about a new way to measure albedo with the help of a drone. This technique makes it possible to do more exact calculations of the climate effect of different land uses and land use changes. In my free time I love to be outside, hiking, picking berries, cross country skiing and canoeing. I am also a beekeeper and produce honey for sale, and I have about 200 000 flying pets in the hives in my garden.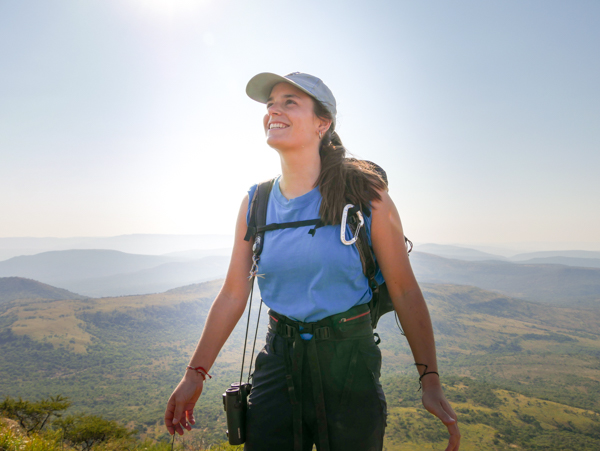 Camille Schroecker
I've always been fascinated by mammals, especially by the African wildlife, and I first wanted to be a vet as a child. I then realized that to protect our natural heritage, I would have a broader perspective and impact as a biologist. While finishing my bachelor's degree in Switzerland, I knew I next wanted to specialize in wildlife conservation and applied ecology and therefore I started my master's degree in Sweden. For my master thesis, I am investigating the impacts of elephants on carbon stocks in Hluhluwe-iMfolozi Park, KZN, South Africa. In my free time, I love to swim, hike and I do some wildlife photography.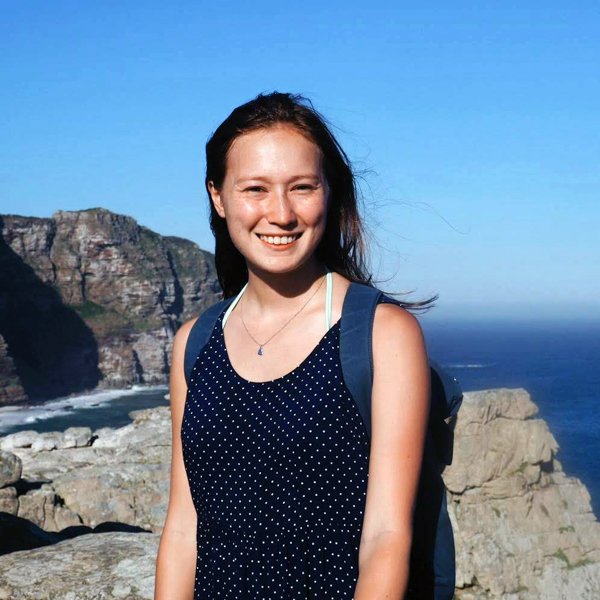 Klara Leander
Growing up in Canada and visiting relatives in Sweden, I have always been lucky to spend time in nature. In high school I became interested in understanding how ecosystems and nature work, and as a result I did a Bachelor's in biology—focusing in ecology—at Imperial College London. While I am currently studying a Master's in Sustainable Development at Utrecht University, I wanted to go back to my ecology roots for my Master's thesis. I am conducting a meta-analysis that looks into how deer affect tree recruitment and species composition in temperate and boreal forests, and what knock-on effects that might have on carbon stocks in the Northern Hemisphere.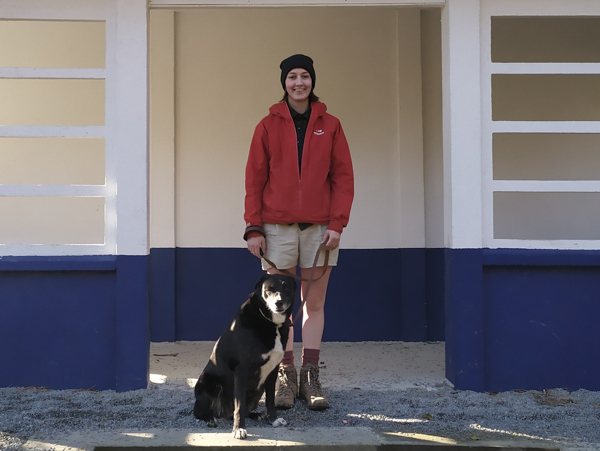 Clémentine Leemans
Like for a lot of us, it is a love for nature and biodiversity that brought me to study biology. While finishing my Bachelor degree in Brussels, I knew I next wanted to focus more on applied ecology, wildlife and conservation. This is why I chose to pursue my studies in Sweden, first at Lund university and now at the Department of Wildlife, Fish and Environmental Studies at SLU. My master thesis focuses on the importance of bilberry bushes in the niche separation between different ungulates. Trying to see if smaller ungulates are pushing moose towards other food sources by limiting their access to bilberry.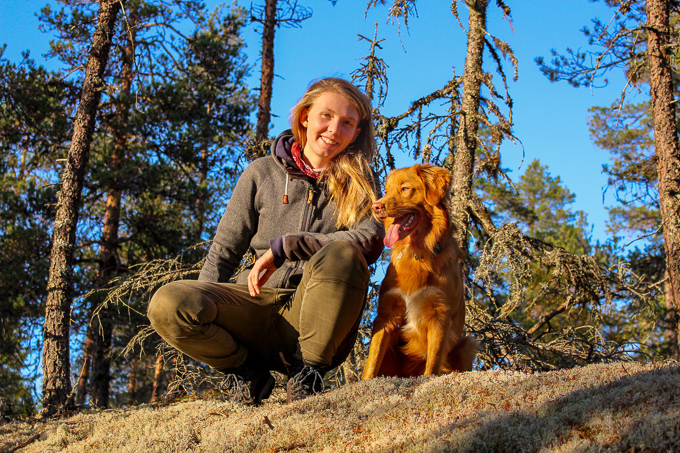 Carolin Berndt
After my Bachelor's degree in Eberswalde (Germany), I joined the "Beyond Moose" group at SLU for an ERASMUS internship, which was one of the reasons why I decided to study the Master Programme of Fish and Wildlife Management one year afterwards at the same place. Now, I am happy to do my master thesis here about the landscape of fear topic and to understand how ungulates behave in our modified landscape to different sound systems. In my free time, I like to spend time with my dog and to train him. I also like to hike, and to swim, and just everything which is outdoors.
Alumni member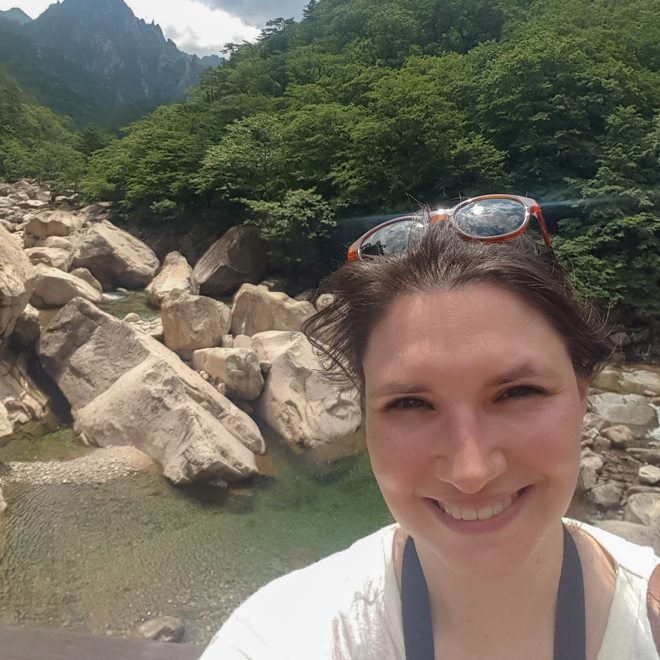 Wineke Slingerland
I studied Biology at Utrecht University and in my last year I became interested in climate change and sustainability. After my gap year I started the master's program Sustainable Development at Utrecht University and followed the track Environmental Change and Ecosystems. During an introductory lecture I became fascinated with the influence that one species can have on an ecosystem after hearing about the wolves in Yellowstone Park. However, after a while I had forgotten about this lecture until later that year when I attended a guest lecture presented by Joris Cromsigt. He introduced megafauna and their role and influence in an ecosystem and from that moment I knew that this subject is where my interest lies. Therefore, I had contacted him when I started to look for a topic for my master thesis and in my second year, I started a master research thesis at SLU. The subject of my thesis is to use data gathered from passive acoustic monitoring to analyze the soundscape and observe frugivorous bird species in the tropical forests of Madagascar. Passive acoustic monitoring is still in development but has huge potential to observe and gain knowledge on species that are otherwise difficult to observe.

Thomas Osinga
While hiking the lenght of New Zealand at age 21 nature and wildlife completely mesmerized me and I felt the urge learn more about these systems. So when I came back to The Netherlands I, as quick as I could, started my Biology bachelor. During this bachelor my intrest in biology has only grown. During my internship at the SLU I am researching the distribution of polecats and how land-use and climatic factors determine this distribution using habitat suitability modelling.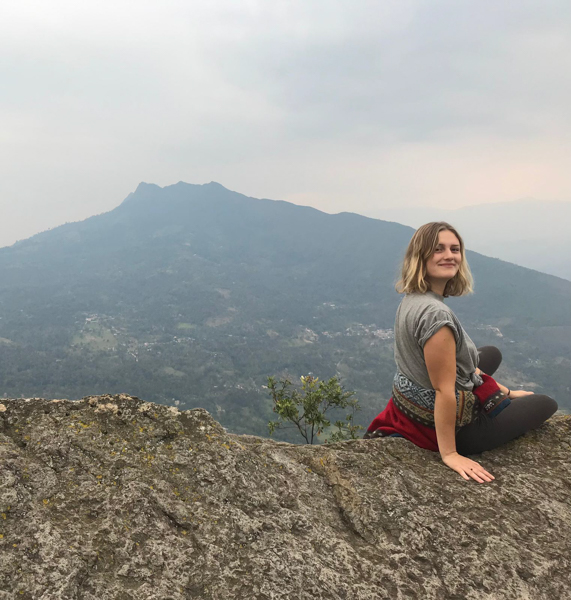 Tanika Brandenburg
Growing up surrounded by forests and animals I always knew that somehow, I had to find a way to work with helping and protecting nature. After high school, I found the study Environmental Science for Sustainable Energy and Technology and, as I had gotten quite an interest in saving the earth from all the pollution it faces each day, I started this bachelor's degree in 2017. In 2019 I had the opportunity to travel to Ecuador for an internship at a wildlife rescue center called 'Amazoonico' in the Amazon rainforest. Here, I spent four months among monkeys, birds, caimans, snakes, spiders, and many more animals. Even more excited about nature and ecology I started a forest ecology course in Sweden in 2020 and after completing this I realized that I wanted to stay in Sweden a bit longer. That is how I ended up writing my bachelor thesis for SLU about habitat selection of the four different ungulates: moose, red deer, roe deer, and fallow deer.
Kajsa Johansson (MSc student)
With an interest in sustainability and the sustainable use of our natural resources, I decided to enrol in the master's program in forestry here at SLU, Umeå. During my education, I came to develop a greater interest in wildlife management and human-wildlife conflict. I therefore chose to write my master thesis for the Department of Fish, Wildlife and Environmental Studies in the project "meet your wild neighbours". The topic for my master thesis is about the effects of domestic cats on wildlife and its correlation to urbanization.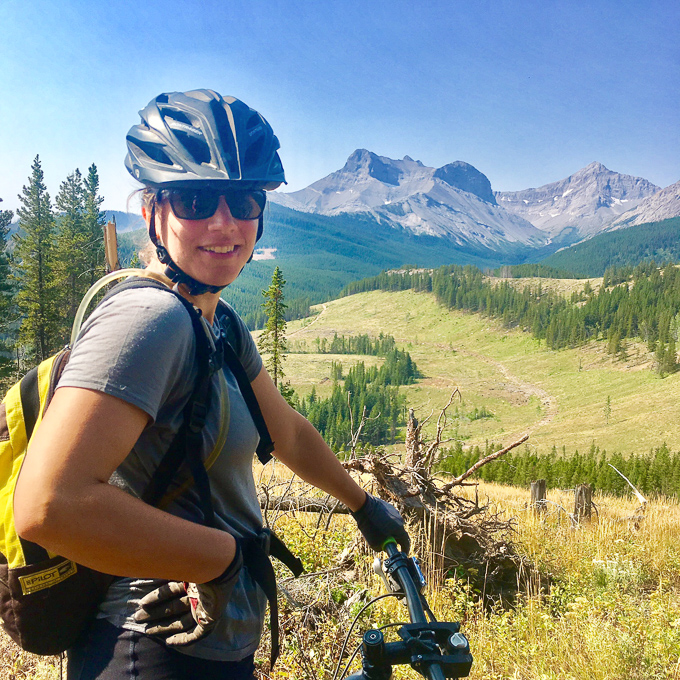 Anne Elizabeth Loosen (Affiliated PhD student)
In the world of wildlife ecology, I classify myself as a 'generalist' researcher: for the past decade, I have worked on a variety of projects, from landscape-scale critical ungulate habitat studies, to understanding microrefugia for small mammals, to evaluation of large carnivore mitigation strategies. I completed my master thesis in 2017 at the University of Alberta where I looked at spatial drivers of American black bear densities and resource partitioning with grizzly (brown) bears in southwestern Alberta, Canada. In 2018, I moved to Norway for a PhD where I study the effects of recolonizing carnivores, forestry practices, and a changing climate on moose browsing ecology. I am co-supervised by Prof. Joris Cromsigt from the Department of Wildlife, Fish and Environmental Studies at SLU. I plan to complete my PhD by summer 2021.
Liza le Roux (Postdoc)
Sabine Pfeffer (Affiliated PhD student)

Sandra Pettersson (MSc student)
I have always had an interest in nature and wildlife and therefore I started my education at the Jägmästar (Forest management) program at SLU in Umeå. I knew from the beginning that I wanted to work more with wildlife management and conservation rather than forest production. Therefore, I chose to do my master at the Fish and Wildlife management program. For my master´s thesis, I investigate how to best combine hunters' expertise and scientific knowledge for creating sustainable management practices in multi-ungulate systems at finer resolution than current methods.

Maja Widell (MSc student)
Growing up on the Swedish countryside made me develop a strong interest in Scandinavian wildlife as a child. Today this interest has evolved to include all the various ecological aspects of ecosystems worldwide. With a longing for the African wildlife and the willingness to learn something new, I came to Hluhluwe-iMfolozi park, South Africa to take part in the HOTSPOT program, which focuses on the effects of megaherbivores on savanna ecosystem functioning. For my master thesis, I am investigating what impact indirect interactions between megaherbivores have on grasslands dynamics, in terms of grass growth and reproduction.

Markus Velin (MSc student)
Growing up in south of Sweden, close to forest and lakes, I early developed an interest in nature which led me to spending much time both hunting and fishing. After working with hunting management for a couple of years, I wanted to learn more about our Swedish wildlife, especially ungulates, together with all the different interactions occurring in the nature. Therefore, I did a Bachelor´s degree in biology at Lunds University, where I now also are doing a Master Program in Animal Ecology. Because of my interest in ungulates I decided to do my master thesis together with SLU, where I look at which factors are determining agricultural damage by foraging ungulates.

Jennifer Chaimungkhun Johansson (MSc student)
Growing up, I always associated forest with work and I didn't think of having it as my office as an adult. As time went on, however, a future in the forest didn't seem that bad. That is how I ended up applying for the Jägmästarprogramme at SLU, where my interest in nature and wildlife grew. After doing my bachelor's degree at the Department for Fish, Wildlife and Environmental Studies, it felt natural to continue to a master's programme in Fish and Wildlife Management. For my master thesis, I am looking at how temperature accumulation affects fireweed phenology, so that we can better predict it in the future by only using temperature data.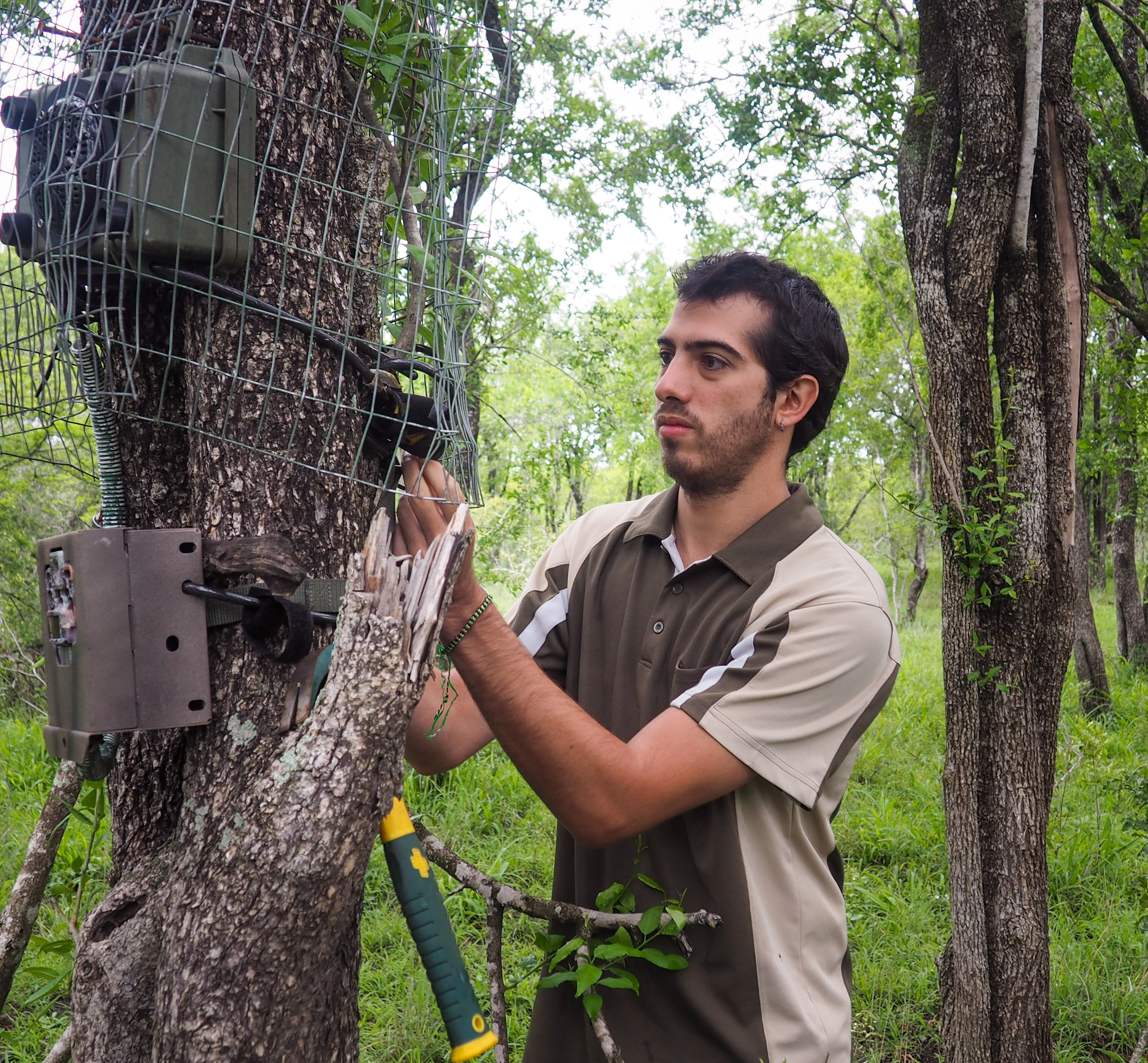 Daniel Gambra (MSc student)
When I was a child I wanted to be a palaeontologist but my passion about the big animals of the past also made me interested in the living animals of today. Finally, I decided to study Natural Environmental Engineering, so I could learn more about wildlife and management. I did an internship in Senegal, and since then I was looking forward to do research in Africa. For my master's thesis, I am trying to see whether white rhinos are developing anti-predator responses due to poaching in Hluhluwe-iMfolozi Park, South Africa. It is ironic that what started as a passion for the extinct big fauna of the past has evolved into a strong commitment towards protecting the large animals of the present.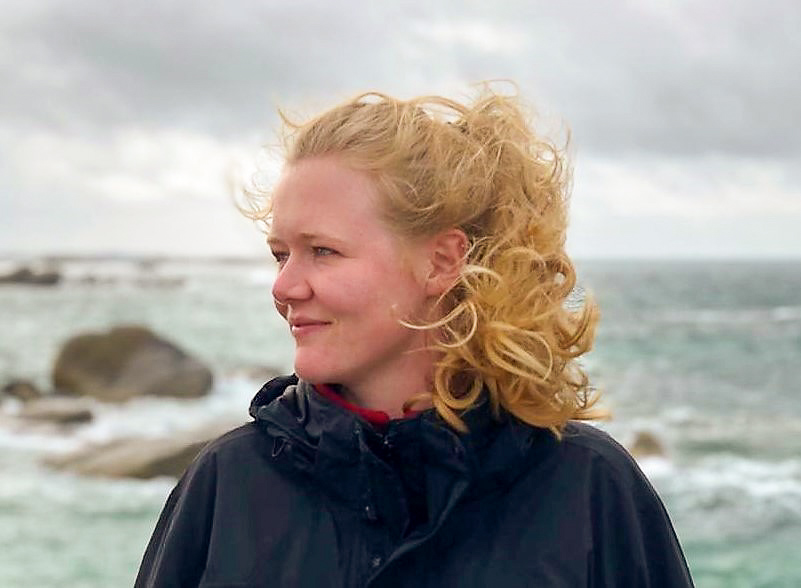 Katharina Jüdt (MSc student)
Being interested in the complex system Earth and how it is being influenced by humans, I did my undergraduate studies in Ecosystem Management at the University of Göttingen, Germany. Now I am a graduate student in Sustainable Development at Utrecht University, Netherlands, where we seek to find solutions to protect the environment without constraining people's needs and happiness. As part of this, I'm currently writing my Master thesis on the influence of N:P stoichiometry on soil carbon in South African grasslands. In my free time, I play ice hockey and I like to hike.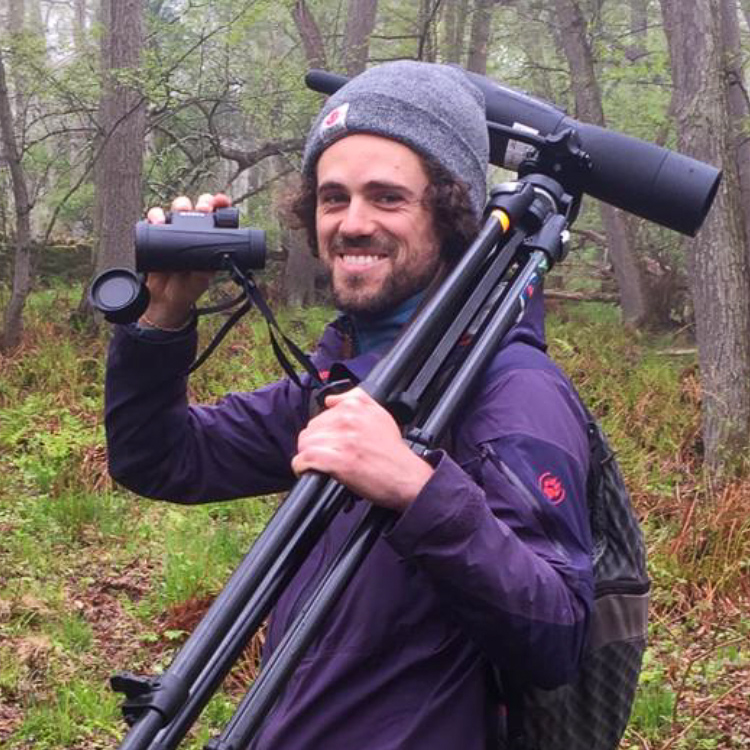 Michael Wentzel, Msc Student
Doing my Bachelor's degree in Utrecht, The Netherlands, I quickly found out I was mostly interested in the complex relationships between animals and its surrounding environment. Later on, during my Master's in Uppsala, I got interested in the Swedish ungulates, how they affect their surroundings and how this creates human-wildlife conflicts. I got an offer to work on ungulates and gather my own data during the summer to write my thesis with. Now I write my thesis at SLU on the indirect effects of ungulate communities on rodent abundance through vegetation cover.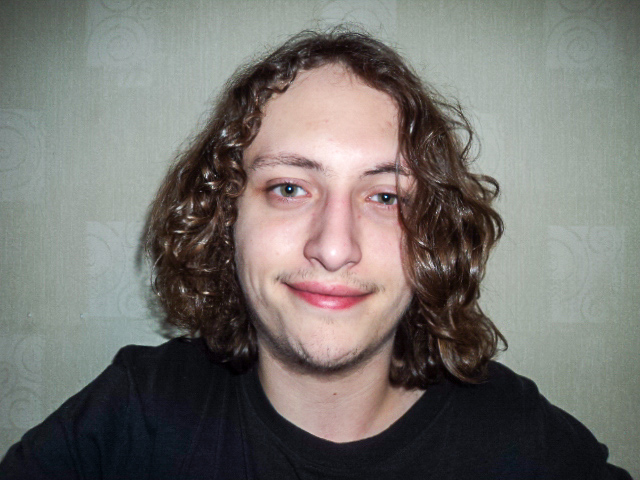 Aurélien Henet, Intern
I am doing an internship at SLU, from the Université catholique de Louvain (UCLouvain), Belgium. I am joining the MegaSus group for four months from February until June 2020, and I will primarily assist Robert Spitzer in the nutrient analysis of key ungulate food plants.
---
Contact