Perennial weeds
Last changed: 05 April 2023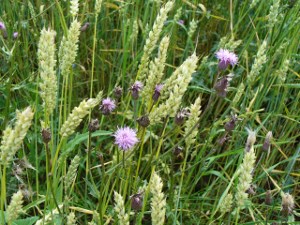 Are we controlling them too late?
Project responsible: Theo Verwijst, the Department of Crop Production Ecology, SLU, Uppsala.
Project member: Anneli Lundkvist, the Department of Crop Production Ecology, SLU, Uppsala.
One of the main challenges in organic farming is to achieve a long-term control of populations of perennial weeds, especially Elytrigia repens, Cirsium arvense, and Sonchus arvensis. Previous research has shown that these species are most vulnerable to mechanical control when the sprouting plants reach their minimum below-ground dry weight, i.e. the compensation point.
Earlier studies have shown that the compensation point occurred at 3-4, 5-7, and 8-10 leaves in E. repens, S. arvensis, and C. arvense, respectively. More recent experiments with C. arvense and S. arvensis however suggest that the compensation point occurs at earlier phenological stages. This would imply that control of those noxious weeds is performed far too late in current commercial practice.
Experiments will be performed to assess the compensation points of the main perennial weeds under field conditions and to evaluate the results of former and new experimental studies to assess if and how compensation points vary under field conditions. Field trials will be performed in central Sweden during 2017 and 2018.
Root/rhizome fragments will be planted in spring and in autumn to assess the compensation point of spring-planted plants during the same year and of autumn planted plants the next year. Combinations of root weight, planting depth and crop competition will be used as experimental factors. Parallel experiments will be performed under controlled conditions.
Our hypotheses are:
The compensation points for the weed species occur at earlier phenological stages than described in the current literature.
The degree of fragmentation and planting depth do not affect the phenological stage at which the compensation point is occurring, but
cause a delay in phenological development of the weeds.
The project is expected to result in a revision of the advice for control of the species studied and thereby in a more efficient weed control.
---
Contact
Theo Verwijst, professor Short Rotation Forestry
Institutionen för Växtproduktionsekologi, SLU
theo.verwijst@slu.se +46 (0)18-67 25 50
---
Links