Ley seed production
Last changed: 05 April 2023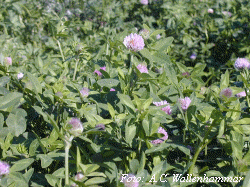 Establishment and weed management in organic growing of white clover, red clover and grass seed
Project managers: Lars Andersson, Department of Crop production Ecology, SLU and Ann-Charlotte Wallenhammar, Rural Economy and Agriculturat Society.
Certified seed for organic leys has to meet the same demands for purity and germinability as seed for conventional farming. This calls for very efficient weed control. Matricaria perforata and Rumex longifolius constitute serious problems that must be dealt with by expensive manual weeding. An improved method for establishment of the crop might offer better possibilities to control the weeds. Today, most farmers use a row distance of 12 cm, which does not allow the use of weed hoeing.
In this project we will study the establishment of white clover (Trifolium repens) at different row distances, and the effect of weed hoeing. The establishment of white clover for seed production has been little studied.
Cutting of the crop in the seeding year has been tested by farmers as a weed control measure. The effect of mowing might have great importance for the degree of weed infestation and thus for the purity of the seed. Studies are being conducted on the effect of cutting at different development stages and cutting heights, in both red clover (Trifolium pratense) and white clover.
When establishing grass crops for seed production, sowing in pure stands in spring/early summer or in a green crop fallow makes it possible to cut the crop in summer. Summer cutting reduces the weed emergence in autumn and the number of over‑wintering weeds. Different establishment routines and sowing dates are being investigated in timothy (Phleum pratense) and meadow‑fescue (Festuca pratensis). The crop is harvested the first seeding year.
---
Contact
---
Results and publications