Milk production
Last changed: 05 April 2023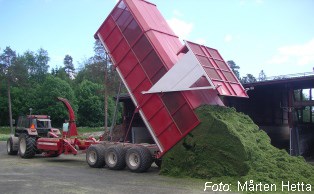 Optimization of protein feeding – economy and environment
Project responsible: Pekka Huhtanen, Department of Agricultural Research for Northen Sweden (NJV), SLU.
Project group: Mårten Hetta and , NJV, SLU.
Organic dairy production in Sweden has a well balanced use of nutrients at farm level regarding the crop production. The milk production itself is though a component with relatively low nitrogen utilization, as small share of the feed nitrogen is retrieved in the milk. At many farms are the nitrogen efficiency and economic return even lower than expected, due to a general overestimation of the marginal response rate from protein feeding and high prices of protein feeds. Modern research has recently proven that additional energy has a higher impact on the dairy production in relation to the concentration and quality of the feed protein. Theories that has not yet, been evaluated with organic dairy diets.
The project consist of three production trails (2011-2013) who together builds up a broad base of knowledge for evaluation of feeding strategies in organic dairy production. The studies cover analysis of increased protein supply, comparison of different protein feeds and the effects of increased energy supply from the forage.
---
Contact
---
Results and presentations