Biodigestate
Last changed: 05 April 2023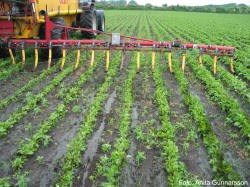 Crop rotation with plant residues returned as biodigestate
Project manager: Gunnar Svensson, Dept of Crop Science, SLU.
Project group: Ulla Gertsson and Anita Gunnarsson, Hortikultur, SLU
The aim of the project is to achieve nutrient supply within a five-year crop rotation through including a green manure crop and returning residues from the commercial crop and the green manure in the form of biodigestate. The crop rotation includes the following crops:
Green manure
Beetroot/sugarbeet
Spring wheat
Peas
Spring barley with undersown crop
The advantages of this system are that:
Plant nutrients can be saved from one season to the next and can therefore be used at the desired time in the next season.
Nitrogen fixation in the green manure is probably increased, since the cut biomass is removed
The biodigestate is liquid and can therefore be used in the growing crop
Biogas is produced as a by-product.
The beetroot crop is in a separate treatment with different pre-crop treatments and associated quality studies. To this part of the project Anita Gunnarsson is associated as a PhD-student.
---
Contact
---
Results and publications
Gunnarsson, A., Gertsson, U. and Bohn, L. 2006. Anaerobically digested crop material for improved nitrogen efficiency in a crop rotation with beetroot (Beta vulgaris var. Conditiva alef.). Acta Horticulturae700, 267-270.
Gunnarsson A., Lindén, B. and Gertsson, U. 2008. Residual nitrogen effects in organically cultivated beetroot following a harvested/green manured grass-clover ley. Journal of Plant Nutrition 31(8), 1355-1381. DOI: 10.1080/01904160802206190