Parasite intervention
Last changed: 05 April 2023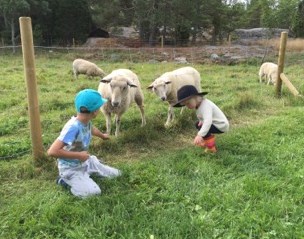 In organic sheep flocks
Projectleader: Johan Höglund, Department of Biomedical Sciences and Veterinary Public Health (BFV), Section for parasitology, SLU.
Swedish organic lamb production is characterized by high standards of animal welfare and low use of medication. However, it is also recognized that it is difficult to carry on pasture-based organic lamb production without use of dewormers (anthelmintics).
Experiences from Swedish farms show that gastrointestinal nematodes (GIN) causing severe pathology and illness in sheep are problematic to control without taking advantage of anthelmintic drugs. How to effectively monitor and combat GIN in Swedish organic lamb production of today is largely unexplored.
In this project we are going to investigate and develop a risk-based methodology for GIN control by gathering sequential data on the infection dynamics from organic sheep flocks. The project outcomes will ultimately lead to targeted treatments (TT). This is a novel medication strategy where anthelmintics are used meanwhile animals are grazing on diversity-rich natural grasslands, but only after diagnosis of infection. Thus, usage of dewormers will be minimized but not at the expense of decreased animal health or welfare. Since the use of anthelmintics is preceded by diagnosis the TT method is accepted according to the organic production guidelines in Sweden.
The project will be carried out in close collaboration between parasitological expertise at SLU, advisors, sheep breeding organizations and organic lamb producers. Ultimately it will contribute to an increased welfare, productivity and profitability in organic lamb production.
---
Contact
---
Results
Final report 2020 (in Swedish with summary in English)
Publications
Höglund, J., Elmahalawy, S. T, Halvarsson, P., Gustafsson K. 2019. Detection of Haemonchus contortus on sheep farms increases using an enhanced sampling protocol combined with PCR based diagnostics. Veterinary Parasitology: X, DOI: 10.1016/j.vpoa.2019.100018.
Ljungström, S., Melville, L., Skuce, P.J., Höglund, J., 2018. Comparison of four diagnostic methods for detection and relative quantification of Haemonchus contortus eggs in feces samples. Front. Vet. Sci. 4, 239. doi.org/10.3389/fvets.2017.00239.
Elmahalawy, S.T., Halvarsson, P., Skarin, M., Höglund, J. 2018. Droplet digital polymerase chain reaction (ddPCR) as a novel method for absolute quantification of major gastrointestinal nematodes in sheep. Vet. Parasitol., 261, 1-8. doi.org/10.1016/j.vetpar.2018.07.008
Hammarsten, E. 2018. Methods for parasitological examination in sheep herds. ISSN 1652-8697. Examensarbete 2018:77. In Swedish with abstract in English.
Presentations
Höglund, J. Proceedings of 25th International Conference of the World Association for the Advancement of Veterinary Parasitology, Kuala Lumpur 2017, Malaysia
Höglund, J. Ongoing projects in small ruminant parasitology. 2nd Meeting of Sheep and goat researchers within SLU Uppsala 2018
Höglund, J. Assessment of an enhanced sampling protocol and use of a ddPCR assay for detection of Haemonchus contortus on commercial sheep farms. Proceedings of 26th International Conference of the World Association for the Advancement of Veterinary Parasitology, Madison 2019, USA
Höglund, J. Droplet Digital PCR - a novel diagnostic tool in nematodes of veterinary interest. 2nd COMBAR Working Groups meeting, 26-27th September, León 2018, Spain
Höglund, J. Ongoing research regarding sampling of parasites from sheep herds. 3rd Meeting of Sheep and goat researchers within, SLU Uppsala 2019